Art of living at Monique & Chanaka's
If the art of living is feel good factor orientated, then you're in good hands!
Monique and Chanaka wear many hats; they're architects, interior decorators, chefs, guides and gardeners … She's the fairy godmother who discreetly makes sure that guests are happy and feel great. He splits his time between the kitchen and days out devised with guests in mind and the cinnamon plantation (Mirala Duwa).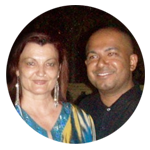 Monique loves beautiful objects and is on an ongoing quest to add to her collection. Bargain hunting has been a passion for years: as a youngster she scoured flea markets and antique shops in her native Savoy before exploring a growing interest in interior design and architecture. A few years later she landed a job in hospitality at the lavish Richemond Hotel, a jewel in the crown of luxury hotels overlooking Lake Geneva. She echoes this refined way of life at La Maison Nil Manel.
Chanaka first fell in love with nature at the Madu Ganga lagoon. As a child he accompanied his grandfather on long bike rides through family plantations. Inquisitive and hungry for adventure, he spent part of his youth exploring Europe before honing his cooking skills in Vienna and Geneva in the kitchens of prestigious international brands. An entrepreneur at heart, he carried out his projects with the all the drive that distinguishes those impassioned by what they do. Twenty years after the doors of La Maison Nil Manel first opened for business his latest challenge is to produce the best cinnamon in Sri Lanka!