Press reviews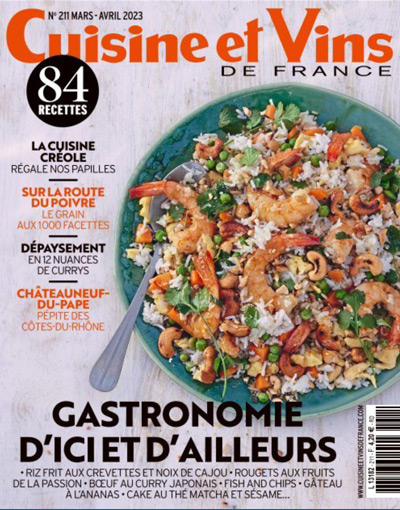 Cinnamon – A legendary spice
Cuisine et Vins de France
In stick, infusion or powder, Ceylon cinnamon has been used for millennia in savory or sweet preparations. We set out to discover it, in its native cradle: Sri Lanka…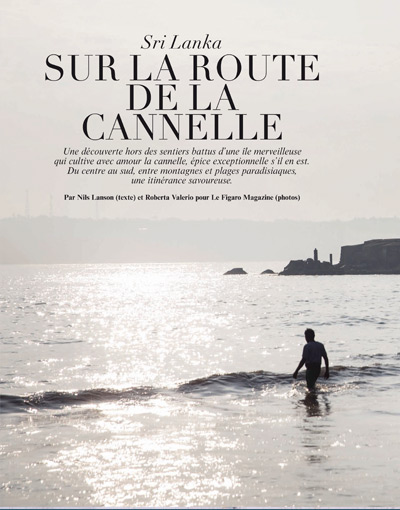 Sri Lanka – On the cinnamon route
Figaro Magazine
La Maison Nil Manel (00.94.912.264.331; lamaisonnilmanel.com). This colonial house, owned by Franco-Sri Lankan couple Monique and Chanaka de Silva, was recommended to us by Mathilde Roellinger because of the ties she has forged with them over the years. The house has the crazy charm of a family home. The beach is at the end of the road. From €175 per night, breakfast included…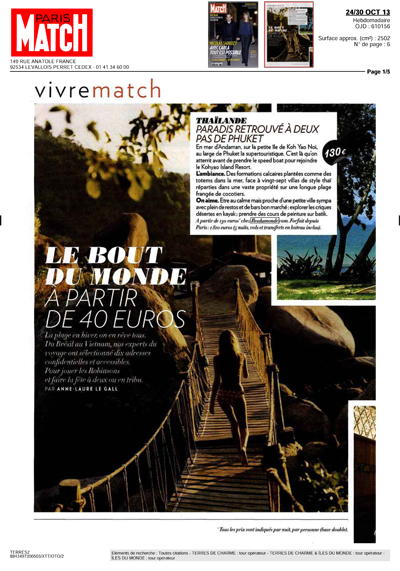 SRI LANKA - A PALACE ON THE SEA
Paris Match
This guesthouse is the product of a love story between a French lady and a Sri Lankan. La Maison Nil Manel has been checked out by Terres de Charme travel agency who thoroughly recommend it as a charming place to stay for a few days…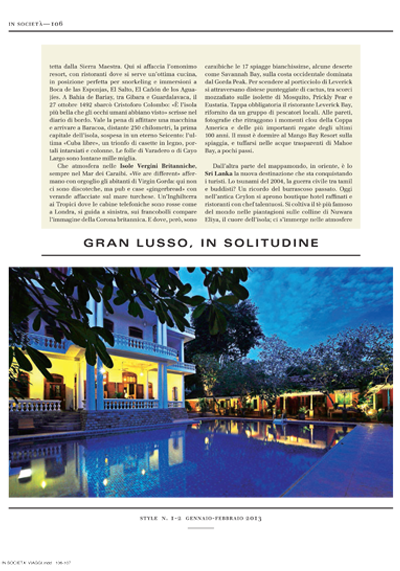 GRAN LUSSO, IN SOLITUDINE
Corriere Della Sera – Style Magazine
A cavallo sulle spiagge dello Sri Lanka, l'antica isola di Ceylon. Nella pagina a fianco, vista serale de La Maison Nil Manel, ad Ahungalla, sulla costa occidentale a Sud di Colombo.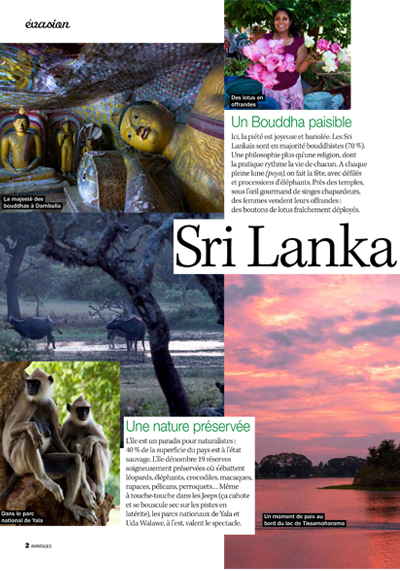 SRI LANKA: GREEN PARADISE
Magazine "Avantages" Evasion
Breathtaking temples, tea plantations tumbling down mountainsides, beaches of golden sand fringed by natural parks and a certain British elegance… Cinnamon island lies to the south west of India and has found its smile once again after a devastating tsunami and years of ethnic conflict. Here in Ceylon… life is super sweet. By Isabelle Bourgeois. Photos by Pierre Biron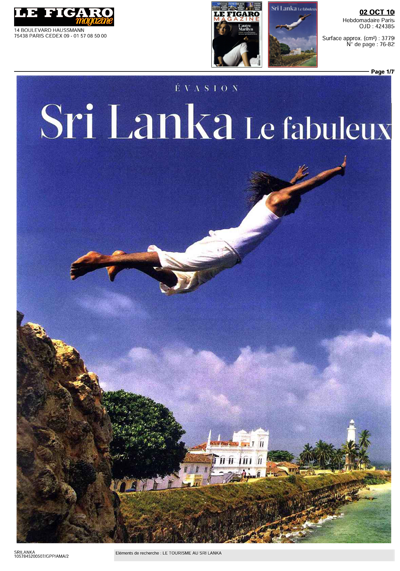 THE FABULOUS DESTINY OF SPICE ISLAND
Figaro Magazine
Monique and Chanaka de Silva take real pleasure in showing off their country to guests and revealing the secrets of Sri Lankan cuisine.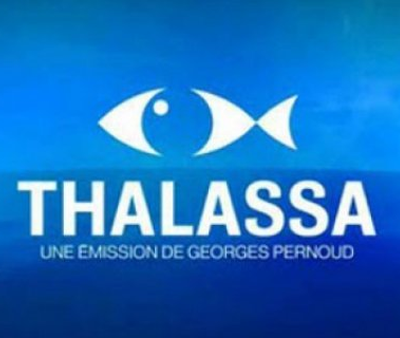 THALASSA: THE MAGAZINE OF THE SEA
Magazine of April 4, 2010, presented by Georges Pernoud. France 3
A 20 minute report by journalist Claire Wanbergue and cameraman Olivier Le Hellard. After forty years of a civil war that kept tourists away, Sri Lanka, "the pearl of the Indian Ocean", aims to regain its rightful place in the list of dream destinations: Monique and Chanaka de Silva tell us why.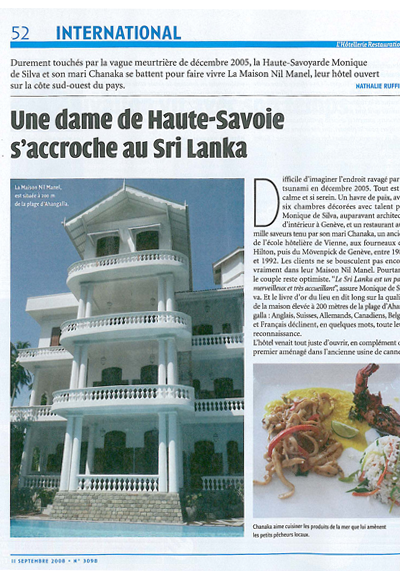 A LADY FROM UPPER SAVOY FALLS IN LOVE WITH SRI LANKA
Hôtellerie Restauration Magazine
Hard affected by the murderous wave of December 2004, the Haute-Savoyard Monique de Silva and her husband Chanaka fight to make live La Maison Nil Manel, their hotel opened on the southwest coast of Sri Lanka - Nathalie Ruffier